"Banana Chips"
2 or 3 very green plantains
Oil for frying
Salt
Slit the skin and peel plantains. Slice into very thin rounds. Separate rounds and drop them individually into the hot oil.
They will turn golden almost immediately. Remove chips to paper towels, sprinkle with salt. Store in an airtight container.

---
"Bala di Keshi" (Cheese balls)
6 egg whites
4 cups shredded sharp, yellow cheese (oude Boerenkaas)
Flour
Oil for frying
Beat egg whites until stiff. Mix in the cheese until well blended. Form into balls (about 1" in diameter). Keep hands well-floured while forming balls.

Deep fry in hot oil until golden brown, being careful not to over fry as they tend to taste bitter. Serve piping hot. Can also be kept in freezer, unfried after firming up. Store in airtight containers until needed. Yields about 5 dozen.

---
"Tekeño" (Cheese sticks in pastry)
± 2 lb.. cheese (like cheddar)
¼ lb. butter
1 egg yolk
1 teaspoon salt
2 cups flour
1 teaspoon baking powder
about 1/3 cup cold water
oil for frying
Cut the cheese into rectangles 1½" long and about ¼" thick.
Mix the butter, yolk and salt together. Add the flour and baking powder. Add enough water to hold. Knead the dough. Roll out to a thin sheet and cut strips 1" wide and 7" to 8" long.

Wrap pastry around cheese bandage style and seal the ends with water.

Fry sticks in deep, hot oil until golden brown. Yields about 4 dozen.

---
"Curaçao Antipasto"
One 6½ to 7 oz. can of tuna fish
One 3½ oz. can of sardines
Juice of one lime
4 oz.. chopped pimentos
1½ cups chopped mixed pickles (sweet and sour) and cocktail onions
One 12 oz. bottle ketchup
2 tablespoons Lea and Perrins sauce
few drops tabasco
½ cup sliced mushrooms (optional)
1 cup sliced pimento olives
Drain and break the fish into chunks but not flakes. Add the lime juice and toss lightly. Set aside. Mix the remaining ingredients together well. Add fish and chill.

Serve with crackers as an hors d'oeuvre, or in a lettuce cup as an appetizer. The antipasto may be made in advance as it keeps well in the refrigerator several days, or frozen, adding additional seasonings after defrosting if necessary. Makes about 4 cups.

---
"Pastechi di karni" (Meat pastries)
Filling:
1 large chopped onion
2 minced garlic cloves
1 chopped green pepper
1 diced celery stalk
1 tablespoon parsley
1 large chopped tomato
1 silver hot pepper or a few drops of Tobasco
2 tablespoons cooking oil
1 lb. ground beef seasoned with salt, pepper and nutmeg
1 bouillon cube
1 teaspoon cumin
2 tablespoons tomato paste
¼ cup capers
¼ cup chopped stuffed olives
½ cup raisins
2 tablespoons Worcestershire sauce
Sauté chopped vegetables in oil, add beef and cook until meat is no longer raw - add bouillon cube, cumin, tomato paste, and if necessary, a little water - simmer until done - add remaining ingredients and check for seasonings. Filling should be as "hot" as you like it.

Pastry: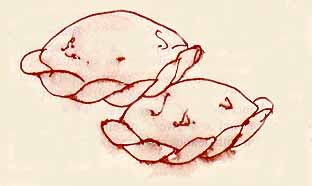 4 cups all-purpose flour
1 cup shortening (¾ cup Crisco and ¼ cup margarine)
1 teaspoon salt
2 teaspoons baking powder
2 tablespoons sugar
6 tablespoons Coffee Rich milk substitute) mixed with
6 tablespoons water
Mix dry ingredients with shortening, slowly add liquid, knead to a smooth ball, let stand 30 minutes. Roll out thinly on a very lightly floured board, cut into rounds, fill with 1 heaping teaspoon of above meat mixture, cover with another round, seal and crimp edges. Can also be made into oblong patties by folding dough over, sealing and crimping.

Fry in deep fat until golden brown. Makes 60 cocktail size.

"Chicken pastechis"

Sauté 1 lb. chicken and 11 of 2 lb. thigh with seasonings mentioned for beef. When ready, debone, cut into tiny pieces, add remaining ingredients and proceed as directed for beef pastechis.

---
"Bitterbal" (Dutch style croquets)
1 cup thick white sauce (8 tablespoons margarine to 10 tablespoons of flour, adding 1 cup of bouillon)
1 teaspoon chopped onion
1 teaspoon chopped parsley
2 cups minced, cooked and seasoned meat
Fine bread crumbs
1 beaten egg plus 2 tablespoons water
oil for frying
Mix together the sauce, meat, onion and parsley and chill well. Shape into cylinders or balls. Roll in fine crumbs and let dry for 2 to 3 hours in the refrigerator. Dip cylinders or balls in the egg mixture, then in the bread crumbs again. Chill for half an hour.

Fry in deep hot fat until brown. Makes 1 dozen cylinders or 2 dozen balls, serve with hot mustard.

The croquets can also be dipped in the egg mixture and dry bread crumbs just once for a drier coating or dipped in the egg white only, adding the yolk to the meat mixture.

---
"Saté" (marinated meat on skewers)
1 lb. cubed tenderloin or
4 chicken breasts, deboned and cut into pieces
½ teaspoon onion powder
½ teaspoon cumin
½ teaspoon garlic powder
½ teaspoon curry powder
½ teaspoon hot pepper (sambal) or Tobasco to taste
5 to 6 tablespoons Ketjap Manis
3 tablespoons water
Salt and pepper to taste
Mix all the ingredients well and marinate for a few hours or overnight. Place the chicken or beef on skewers and either grill, barbecue or fry in margarine or oil. Top with peanut sauce.

---
"Tuna Mousse" (without mayonnaise)
One 6½ to 7 oz. tuna fish
Lime juice
1 envelope unflavoured gelatin
¼ cup water
± ½ cup prepared ketchup
To the ketchup, add according to taste: Lea & Perrins sauce, Tobasco, finely chopped mustard pickles, olives, parsley,
sweet pepper and gherkins.

Sprinkle lime juice over tuna fish.

Soften gelatin in water, place on a lo flame and stir until dissolved.

Add prepared ketchup to the tun, mix well then add the gelatin and blend thoroughly. Place in a mold and chill for several hours.
Serves 4.

---
"Chicken salad"
Lime juice, salt, pepper, garlic and onion powders
3 lb. chicken
1 medium onion
2 sliced green peppers
2 tablespoons tomato paste
1½ teaspoons Lea & Perrins sauce
1 small can of cream corn
1 small can kernel corn
One 16 oz. can of peas
1 large, peeled, cored, diced apple
2 stalks of celery, chopped
4 chopped pickled onions
1 chopped sour pickle
Dash of Tobasco
±½ cup mayonnaise mixed with a little of the chicken sauce from stewing
1 to 2 tablespoons Piccalilli
¼ cup chopped pimento olives
Wash chicken with lime juice and season with salt, pepper, garlic and onion powders. Stew with the next four ingredients until done. Reserve sauce.

When cool, debone and cut into bite size pieces. Add the remaining ingredients and mix well. Adjust seasonings, if necessary.
Serves 6 to 8.

Note: Can also be made with canned tuna or salmon using two 7 oz. cans. A small can of diced carrots can also be added
to the salad.

---
"Arepita di pampuna" (pumpkin fritters)
2 cups boiled and mashed pumpkin (drain well after boiling and immediately mash)
±½ cup flour
¼ cup milk
1 egg
1 teaspoon cinnamon
2 tablespoons sugar to taste
Pinch of salt
¼ teaspoon vanilla
Pinch of baking powder
Crisco for frying
Mix everything in a blender or in a bowl. Fry on a griddle with Crisco.
Makes ± 2½ dozen small fritters.

---
"Sunchi" (Meringue kisses)
3 egg whites
1 cup sugar
½ teaspoon vanilla
Pinch of salt
Few drops of lemon juice
½ teaspoon cream of tartar
Beat the egg whites until stiff, but not dry. Gradually add the sugar, then vanilla, lemon juice, salt and cream of tartar and beat well.

Drop by tablespoons on a wax paper covered cookie sheet and bake at 225°F for about 30 minutes.

---
"Suku di lechi" (milk fudge)
1 tin sweetened condensed milk
±2½ cups confectioner's sugar
±2½; cups powdered whole milk
¼ teaspoon salt
1 tablespoon vanilla
Mix all ingredients well together, then knead until smooth. Shape into small balls, and flatten with a fork, or fill small molds, let dry, then turn out.

For 2-toned fudge: Reserve a tablespoon or two of condensed milk. Mix some powdered cocoa with a little sugar and water and heat until well mixed. Add the reserved milk and blend. Add to part of the dough to make brown fudge, make into balls or molds.

---
"Pan Levy" (Crisp sponge cookies)
One of the most ancient, but at the same time, most popular recipe's of the Curaçao Sephardim. Traditionally baked for all holidays and other festive occasions, they are often sent to the sick and relatives.
Together with hot chocolate, they are a "must" at every Brit Milah (circumcision ceremony)
3 well beaten eggs
½ cup sugar
Pinch of salt
¼; teaspoon cinnamon
½ teaspoon vanilla
¾ cup flour
½ teaspoon baking powder
Beat eggs, sugar and cinnamon well. Blend in the vanilla. Fold in flour and baking powder by hand. Drop the batter by tablespoons on a greased sheet that has been lightly floured. Cookies should be about 2" apart.

Bake at 350°F for 10 minutes, then lower the oven to 270°F for 5 minutes or until cookies are brown. Take out and loosen from the sheet, place them back in the "off" oven to crisp.
Makes about 2 dozen.